Babka Recipe
Presented at Mega Challah & Babka Bake March 2023
Challah Recipe
Presented at Mega Challah & Babka Bake March 2023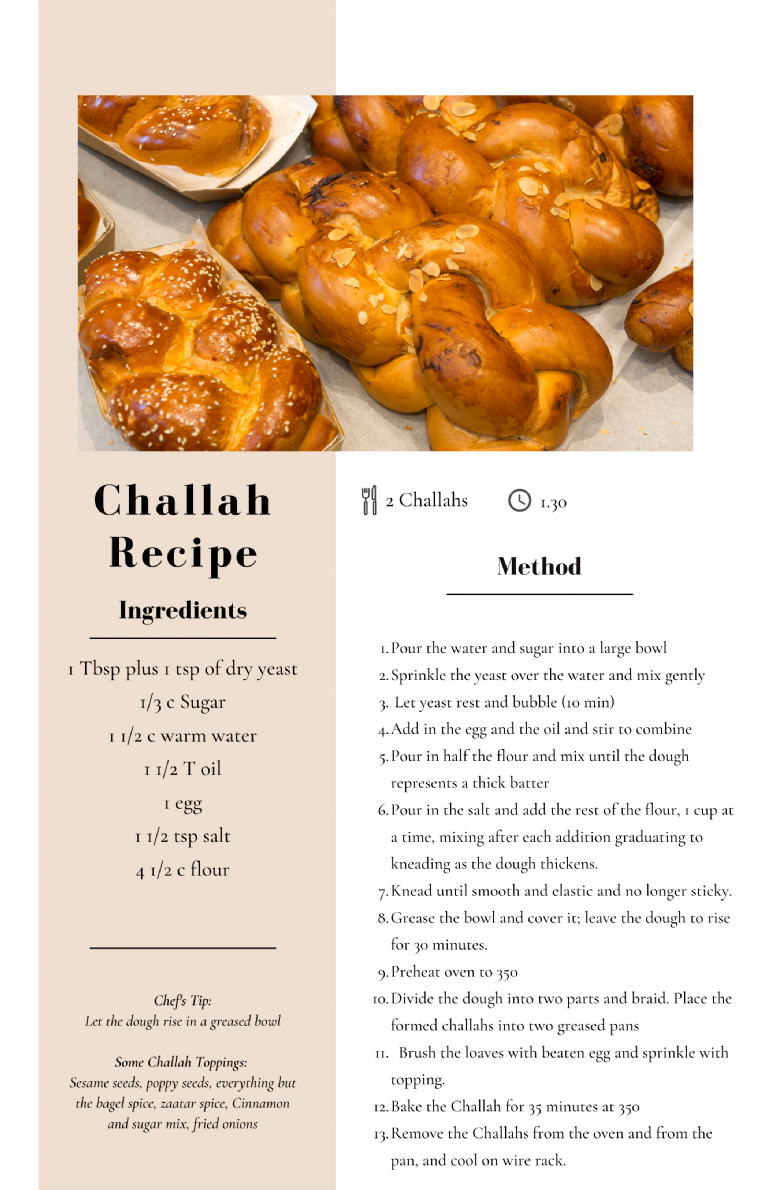 Artichoke, Fennel & Edamame Salad
The following recipe was the most requested salad from the Jewish Women's Circle event on March 7, 2010.
4 (15oz) cans artichoke hearts, well drained
1/2 cup plus 3 Tablespoons olive oil, divided
Salt & pepper to taste
6 tablespoons fresh lemon juice
1/4 cup chopped shallots
1 teaspoon grated lemon zest
1 fennel bulb, cut into quarters and thinly sliced crosswise
1 jar hearts of palm, sliced
41/2 cups frozen shelled edamame, thawed
1/2 cup fresh parsley, finely chopped
1 tsp fennel seeds (optional)
Preheat the oven to 400 degrees. Spray a baking sheet with non-stick cooking spray. Toss artichoke hearts with 3 tablespoons olive oil. Place on prepared pan. Sprinkle with salt and pepper to taste. Roast for 10 minutes. Let cool on baking sheet. Cut artichokes into quarters.
Whisk remaining ½ cup olive oil, lemon juice, shallots, and lemon zest in a large bowl. Stir in artichokes, sliced fennel, hearts of palm, edamame, parsley and fennel seeds, Season with salt and pepper to taste; toss to coat well. (May be prepared in advance. Chill, covered, until ready to serve.) Makes 8 servings.
Note: I chose not to include the fennel seed at the Women's circle, but if you like the flavor, try it! Also, you may substitute fresh edamame in the shell for the shelled frozen edamame. Shell and blanch the fresh edamame before adding to the salad.
 
Love,
Chana