NOTICE:  Services are currently being held at the Burston home, 47 Highview Road, Monroe
Kiddush Sponsorship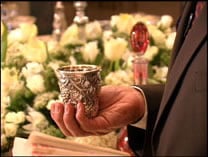 To sponsor a Shabbat Kiddush in honor of a family occasion or in memory of a loved one, please contact us at: 845-782-2770 or [email protected]. Kiddush sponsorship is $250.
To sponsor a Kiddush, please click here. 
More about Shabbat Services at Chabad

The traditional service is designed to guide you step-by-step and will make you feel comfortable regardless of previous exposure and background.
Services are open to all and are user-friendly with Hebrew/English prayers spiced with explanation and song. This, coupled with Jewish melodies and an easy to read prayer book translation will make Shabbat prayer services an enjoyable and meaningful experience for you.
A Kiddush follows Shabbat services. At the kiddush, we have a chance to say "L'chaim" sing Jewish songs, share stories, jokes, a Torah thought and have some good times with friends.
More about Shabbat

To learn more about Shabbat, visit the special Shabbat section on our website.
Got Questions?
Feel free to contact Rabbi Pesach at 782-2770, [email protected]
5780 Kiddush Sponsors
October 16, 2019 - Gil & Phyllis Goetz in honor of their 59th Wedding Anniversary and in memory of Melvin Goetz.  Also sponsored by Bernard and Linda Levitt in honor of their granddaughter's upcoming Bat Mitzvah
December 7, 2019 - Sponsored in part in honor Siggy Toback by: Dianna Levine, Betty Grossman, Peter & Susan Panse 
 December 21, 2019 - Yakov Rotshteyn, in loving memory of his father
February 1, 2020 - Gil & Phyllis Goetz, in memory of Miriam bas Yaakov
March  7, 2020 - Sid & Jodi Hershkowitz, in memory of Arlene Green
5779 Kiddush Sponsors
October 6, 2018 - Tina Turso, in loving memory of her son Brian Turso
October 20, 2018 - Iris Sasson & Family, in loving memory of Udi (Uzi Ben Yoseph) Sasson
November 17, 2018 - 
- Gil & Phyllis Goetz, in honor of their 58th wedding anniversary and in honor of Gil's Dad's yahrtzeit, Mayer ben Yitzchak HaLevi 
- Iris Sasson,  in memory of her mother, Dolly Marks, Haya Shifra bat Yitzhak
- Andrew Friedman, in memory of his mother, Gittel bas Benjamin, in honor of her yahrtzeit
December 1, 2018 - Yakov Rotshteyn, in loving memory of his father 
January 2019 - Gil & Phyllis Goetz 
February 16, 2019 - Ira Kanis, in loving memory of his father
March 2, 2019 - Gil & Phyllis Goetz, in honor of Gil's birthday
May 4, 2019 - Iris Sasson in memory of her father, Zvi Ben Yitzhak Hacohen
May 18, 2019 - Yakov Rotshteyn, in loving memory of his mother, Manya Rotshteyn (Yahrtzeit Lag BaOmer)
August 3, 2019 - Sid & Jodi Hershkowitz, in memory of Sid's dad and Jodi's grandmother
September 7, 2019 - Sponsored in part by Lester & Shirley Pleeter, in memory of Shirley's mother, Liba bas Shlomo Chaim